Crooked and crowded teeth are hard to clean and maintain—resulting in tooth decay, loss and/or gum disease. Improper alignment also causes abnormal wear of tooth surfaces, inefficient chewing function, stress on gum tissue and the bone that supports the teeth or misalignment of the jaw joints—leading to chronic headaches and face or neck pain. In addition to general health and well being, straight teeth have a positive impact on your self image. And, how you feel about yourself and your appearance affects how other people feel about you.
Below is a list of the many orthodontic options we have to offer:
• Traditional metal braces
• Clear Aligners for more discreet treatment that can be removed when needed
• Ceramic braces made of translucent (or clear) material
We are one of the few orthodontic practices in Northeastern Ohio to offer Orchestrate© Clear Aligners.  Using the Orchestrate digital software – we're not only able to design your custom treatment plan, but maintain that beautiful new smile for a lifetime.
While Orchestrate specializes in creating invisible retainers, not everyone is a candidate. For these individuals, we have other options using Orchestrate. We can start your treatment using bonded invisible braces and then finish moving your teeth using invisible appliances.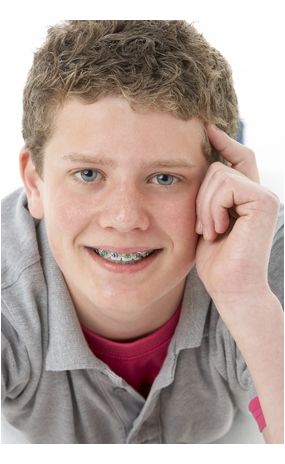 Early Treatment
When is the best time to begin orthodontics?
Beginning treatment at the optimal time period ensures the greatest result and the least amount of time and expense. The American and Canadian Associations of Orthodontists recommend that the initial orthodontic evaluation should occur at the first sign of orthodontic problems or no later than age 7. At this early age, orthodontic treatment may not be necessary, but vigilant examination can anticipate the most advantageous time to begin treatment.
What are the benefits of early orthodontic evaluation?
Early evaluation provides both timely detection of problems and greater opportunity for more effective treatment. Prudent intervention guides growth and development, preventing serious problems later. When orthodontic intervention is not necessary, an orthodontist can carefully monitor growth and development and begin treatment when it is ideal.
Why is age 7 considered the optimal time for screening?
By the age of 7, the first adult molars erupt, establishing the back bite. During this time, an orthodontist can evaluate front-to-back and side-to-side tooth relationships. For example, the presence of erupting incisors can indicate possible overbite, open bite, crowding or gummy smiles. Timely screening increases the chances for an incredible smile.
What are the advantages of interceptive treatment?
Some of the most direct results of interceptive treatment are:
• Creating room for crowded, erupting teeth • Creating facial symmetry through influencing jaw growth • Reducing the risk of trauma to protruding front teeth • Preserving space for unerupted teeth • Reducing the need for tooth removal • Reducing treatment time with braces
Are you a candidate for orthodontic treatment?
Orthodontics is not merely for improving the aesthetics of the smile; orthodontic treatment improves bad bites (malocclusions). Malocclusions occur as a result of tooth or jaw misalignment. Malocclusions affect the way you smile, chew, clean your teeth or feel about your smile.
Why should malocclusions be treated?
According to studies by the American Association of Orthodontists, untreated malocclusions can result in a variety of problems:
Crowded teeth are more difficult to properly brush and floss, which may contribute to tooth decay and/or gum disease. Protruding teeth are more susceptible to accidental chipping. Crossbites can result in unfavorable growth and uneven tooth wear. Openbites can result in tongue-thrusting habits and speech impediments. Ultimately, orthodontics does more than make a pretty smile – it creates a healthier you.